It is with a sad heart I had to let Taffy go on Oct. 14th 2006. She will be missed so very much by all the dogs at the house and of course mostly by me. Taffy had a blood infection.
Hi, glad you stopped by, I was born 10-10-97 in Rogue River, Ore. My mom then was Pat Lyman. I moved to Alaska with my current mom, Kathy when I was 8 weeks old. I got to ride in the cabin of the airplane for I was small enough :) I have gotten my Nat'l/Int'l JA title and my CACIB title with the IABCA (german based group). I am now just pet, but am trying to do some drafting in hopes of getting that title as well. I hope you enjoy my pictures.
** FLASH **

Taffy got her novice draft title 9-10-06!!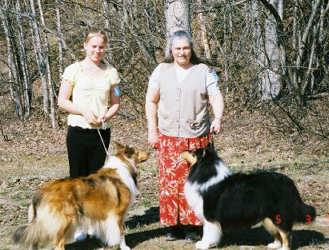 just so you know I did sometimes show (altho now I can't) I was with my junior handler at the collie specialty in 04
Taffy got her herding instinct when she was just a pup, she did sheep. Since then tho she has only played around with the ducks when we had them.
Taffy was shown for several years, only getting one reserve in that time. She is now just part of the family, having been spayed last year